Plan your trip
Fishing Lake Palestine
Here at Lake Palestine you can fish virtually the whole year round, we have no closed seasons. You can go after any of several species. We have crappie, white (sand) bass, hybrid striped (palmetto) bass, largemouth and spotted black bass, and three kinds of catfish: channel, blue, and yellow (flathead or op).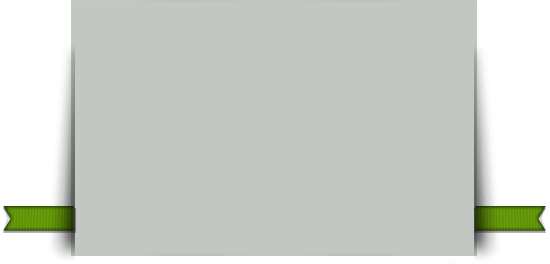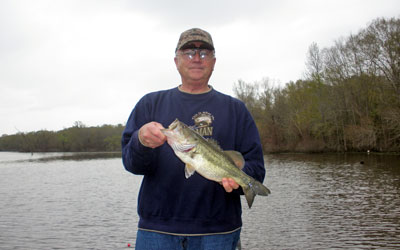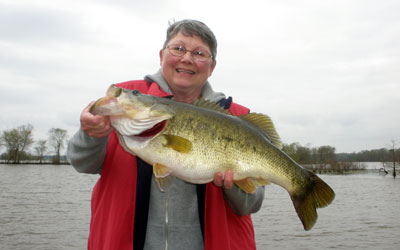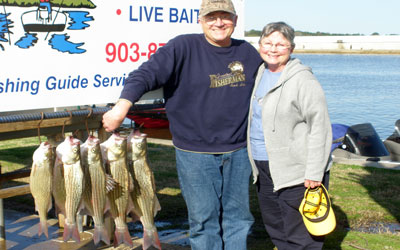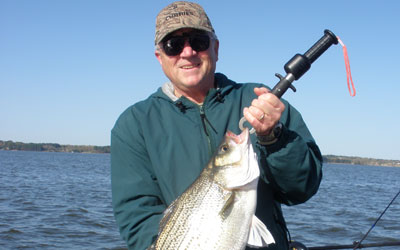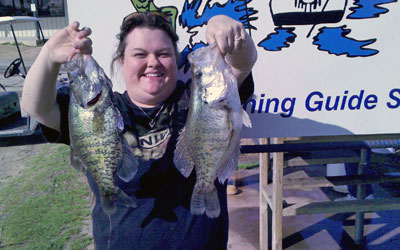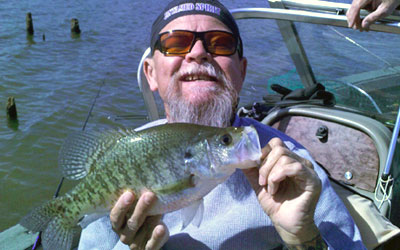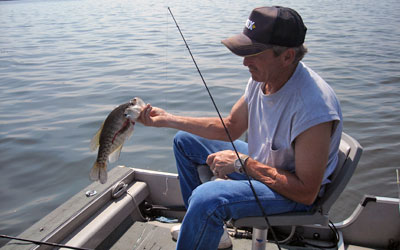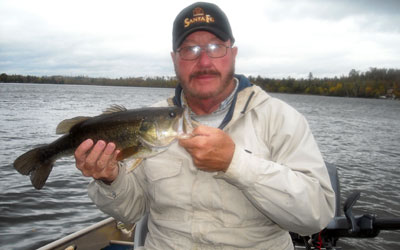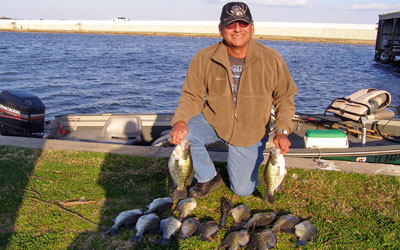 Lake Palestine & East Texas
Facilities and services around Lake Palestine:
I can tell you about and recommend eating places, where to get supplies, boat service centers, and things to do in the Tyler TX area. I can also recommend places to stay, including RV camps, time-shares, motels, and rental houses.

What to bring:
You don't need insect repellent here, but do bring your favorite sunscreen. A hat or other head cover and sun glasses are always a good idea, and a rain jacket if it might be required.
Don't forget the camera if you want to back up that fish story! If you do forget it, I'll back up any story you tell.
Life preservers are required to be worn by kids 12 and under while underway. I provide these for everyone.
I'll have a cooler on board with bottles of water and Gatorade. Feel free to bring snacks too; there's plenty of room.
Texas fishing licenses are required for everyone 17 years old and up. Exceptions and details are found in the Texas Parks and Wildlife "Outdoor Annual" booklet available wherever licenses are sold, or on line at www.tpwd.state.tx.us. You can purchase licenses anywhere such as Academy Sporting Goods or Wal-Mart, or locally at Porter's Sporting Goods in Dogwood City, the Lake Palestine Resort, or the Villagess Marina. Licenses can be purchased online at the TPWD site ($5 admin fee) and can be purchased via phone at (800)895-4248 (but only Mon-Fri 8 to 5). Online and phone purchases will give you a confirmation number that Game Wardens and law enforcement honor.